Posts for: April, 2018
By Andrew Brown, DDS
April 25, 2018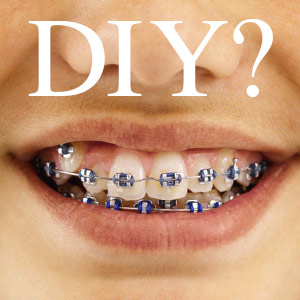 Let's say you've always wanted to have straighter teeth, and you're wondering if it's time to seek help from a dentist or orthodontist. So you search online and find a YouTube video called "Cheap easy braces!! Without going to the dentist!!!!!" Your instincts are screaming "NO," but you can't help wondering… could it really be worth trying?
First of all, in case all of the exclamation points didn't clue you in, the teenager who made this video doesn't have any medical or dental training whatsoever. And just to make it clear right now, there's no such thing as do-it-yourself braces — at least, none that are safe or effective. But the real problem with this video — along with many others in the same vein — is that if you try out what they suggest, you can seriously harm your teeth.
Recently, the American Association of Orthodontists (AAO) issued a consumer alert about the use of so-called "gap bands" and other home remedies for straightening teeth. It was accompanied by a graphic picture of teeth that had been seriously damaged by placing a rubber band around them (one of the methods suggested in the video). The New York Times followed up with an item about a young man who lost both front teeth as a result of DIY orthodontics. And Seventeen magazine ran a story called "Why the DIY Braces Trend is Seriously SO Dangerous: DO NOT TRY THIS AT HOME."
So we'll add our voices to the chorus: Braces aren't something you can do yourself. Seriously. Trust us on this.
Why not? Because it really does take quite a bit of training and experience to gain the necessary skill, knowledge and competence to move teeth safely. That's why all practicing dentists successfully complete a four-year dental school program; orthodontists and other specialists have an additional three years of training on top of that. (And do you really think it would take seven years of training if it was easy?)Â We are familiar with the science behind moving teeth, and up to date on the best clinical practices. As medical professionals, that's our job.
There is one tiny grain of truth in those videos: we do sometimes use elastics to move teeth. The difference is, we're using them in safe and effective ways. We know, for example, that if an elastic band is placed around teeth the wrong way, it can work its way into the gums and destroy the ligaments and bone that hold the teeth in place. This can cause teeth to loosen and fall out.
So don't be misled. If a promised treatment seems too good to be true, it probably is… even if it's being touted on YouTube.
If you have questions about orthodontic treatment, please call our office to schedule a consultation. You can read more in the Dear Doctor magazine article "The Magic of Orthodontics" and "Moving Teeth With Orthodontics."
By Andrew Brown, DDS
April 15, 2018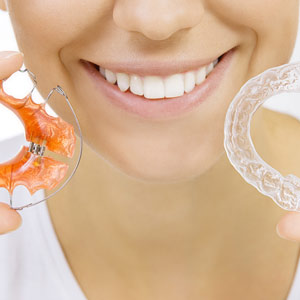 Orthodontics can produce an amazing smile transformation. With today's advanced appliances and techniques even the most difficult malocclusions (bad bites) can be overcome. All of this innovation, however, depends on one basic anatomical fact: though firmly set in the mouth, our teeth can still move.
Teeth are actually held in place by the periodontal ligament, a strong, elastic tissue that attaches to them through tiny collagen fibers on one side of the ligament and to the jawbone with similar fibers on the other side. When pressure is placed against a tooth, the bone on the opposite side of the force begins to dissolve (resorb), allowing the tooth to move. As it moves, new bone is built up behind the tooth, to stabilize it. Orthodontists take advantage of this natural mechanism through orthodontic hardware like braces that applies pressure in the desired direction of movement, while the ligament and bone do the rest.
There is, though, a downside to this process. The teeth, bone and gum tissues can contain a kind of "memory" for the former natural position of the teeth. Over time, the lower front teeth tend to take a gradual migratory movement back towards their original position. Also, as we age the lower front teeth may crowd each other as there is a genetic influence for teeth to move to the midline of the face, causing a pressure that allows the skinny lower front teeth to slip behind each other. As a result of both of these tendencies, corrected teeth may retreat from their new positions.
To stop these tendencies, we use an appliance known as a retainer after braces or other hardware is removed. As the name implies, this appliance "retains" the teeth in their new position. For structural "memory," the retainer will keep the teeth in their new position until the impulse to return to the old one has faded, about eighteen months. Retainers can also slow or stop the natural genetic influence of movement, but it may mean wearing a retainer for an indefinite period, especially individuals who've undergone orthodontic treatment later in life.
The length of time you'll need to wear a retainer after braces — and what type, whether a removable appliance or one permanently attached — will depend on a number of factors including the type of malocclusion, your individual mouth structure and age. We'll recommend the best option that ensures the best chance of keeping your teeth in their new position.
If you would like more information on retainers after orthodontic treatment, please contact us or schedule an appointment for a consultation. You can also learn more about this topic by reading the Dear Doctor magazine article "Why Orthodontic Retainers?"