Posts for: August, 2019
By Andrew Brown, DDS
August 18, 2019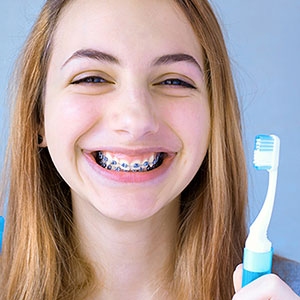 There are a few things you need to do — and not do — while wearing braces: avoid hard or sticky foods, for example, or wear protection during sports to avoid injury. There's one important thing, though, that should be at the top of your list — extra attention to daily brushing and flossing.
The fact is your risk for developing tooth decay or periodontal (gum) disease increases during orthodontic treatment. This is because the braces make it more difficult to reach a number of locations around teeth with a toothbrush or floss. Bacterial plaque, the source for these dental diseases, can subsequently build up in these areas.
Teen-aged orthodontic patients are even more susceptible to dental disease than adults. Because their permanent teeth are relatively young they have less resistance to decay than adults with more mature teeth. Hormonal changes during puberty also contribute to greater gum disease vulnerability.
There are some things you can do while wearing braces to avoid these problems. Be sure you're eating a nutritious diet and avoid sugary snacks or acidic foods and beverages (especially sports or energy drinks).  This will deprive bacteria of one of their favorite food sources, and the minerals in healthy food will contribute to strong enamel.
More importantly, take your time and thoroughly brush and floss all tooth surfaces (above and below the braces wire). To help you do this more efficiently, consider using a specialized toothbrush designed to maneuver around the braces. You might also try a floss threader or a water irrigator to remove plaque between teeth. The latter device uses a pressurized water spray rather than floss to loosen and wash away plaque between teeth.
Even with these efforts, there's still a chance of infection. So, if you notice swollen, red or bleeding gums, or any other problems with your teeth, visit us as soon as possible for an examination. The sooner we detect and treat dental disease while you're wearing braces, the less the impact on your future smile.
If you would like more information on taking care of teeth while wearing braces, please contact us or schedule an appointment for a consultation. You can also learn more about this topic by reading the Dear Doctor magazine article "Caring for Teeth During Orthodontic Treatment."
By Andrew Brown, DDS
August 08, 2019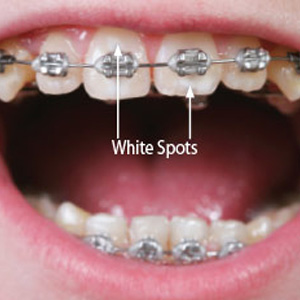 While wearing braces is the path to a healthier and more attractive smile, it can be a difficult journey. One of your biggest challenges will be keeping your teeth clean to avoid a higher risk of tooth decay.
Tooth decay starts with dental plaque, a thin film of bacteria and food particles that accumulates on teeth. Daily brushing and flossing clear this accumulation. But the hardware of braces makes it difficult to access all tooth surfaces, and can even become a haven for plaque.
One sign in particular of tooth decay while wearing braces is the appearance of chalk-like spots on the teeth known as white spot lesions (WSLs). WSLs occur because the minerals in the enamel beneath them have begun to break down in response to decay. The spots can eventually cause both structural and cosmetic problems for a tooth.
The best approach to WSLs is to prevent them from developing in the first place. You'll need to be extra vigilant with daily oral hygiene while wearing braces to reduce plaque buildup. To help with the increased difficulty you might consider using a special toothbrush designed to maneuver more closely around orthodontic hardware. You may also find using a water flosser to be a lot easier than flossing thread.
Preventing tooth decay and WSLs also includes what you eat or drink to reduce the effects of enamel de-mineralization. The bacteria that cause decay thrive on sugar, so limit your intake of sweetened foods and beverages. And to avoid excessive demineralization cut back on acidic foods as well.
If despite your best preventive efforts WSLs still form, we can take steps to minimize any damage. For one, we can give your enamel a boost with fluoride applications or other remineralization substances. We can also inject a tooth-colored resin beneath the surface of a WSL that will make it less noticeable.
With any of these and other treatments, though, the sooner we can treat the WSL the better the outcome. Practicing good hygiene and dietary habits, as well as keeping an eye out for any WSL formations, will do the most to protect your new and improved smile.
If you would like more information on preventing dental disease while wearing braces, please contact us or schedule an appointment for a consultation. You can also learn more about this topic by reading the Dear Doctor magazine article "White Spots on Teeth During Orthodontic Treatment."