Posts for: November, 2020
By Andrew Brown, DDS
November 20, 2020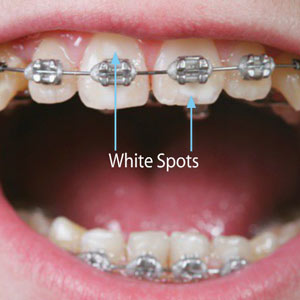 After months of treatment we've removed your braces and your new smile emerges. Upon closer view, however, you notice a number of chalky white spots on your teeth.
These pale areas are white spot lesions (WSLs), the result of mineral breakdown from the long-term contact of acid with the enamel surface. The underlying cause is built-up bacterial plaque due to inadequate oral hygiene, and as such WSLs are the beginning stages of tooth decay.
While anyone can develop WSLs, brace wearers are highly susceptible because of the extra care required to clean around orthodontic hardware. Poor dietary habits such as frequent snacking on sugary or acidic foods and beverages also increase the risk of WSLs.
To reduce the risk of developing this condition, brace wearers must give extra attention and effort to daily oral hygiene, including brushing and flossing. The extra effort required in brushing can be aided by specialized toothbrushes designed to clean around brackets and wires, along with prescription-level fluoride toothpastes for added enamel strength. Floss threaders or a water flosser, a device that uses pulsating water under high pressure, may help you maneuver around hardware to remove plaque between teeth. It's also important to maintain a healthy mouth environment by limiting intake of sugary or acidic snacks and beverages, avoiding tobacco or excessive alcohol or caffeine, and drinking plenty of water to keep your mouth from drying out.
If you've already developed lesions, it's important to stop the decay process before it causes more damage. One way is to assist your body's natural mechanism for re-mineralizing tooth enamel with fluoride pastes or gels or re-mineralizing agents, or undergoing micro-abrasion to repair a tooth's surface.
To improve a tooth's appearance a procedure known as "caries infiltration" involves injecting a liquid tooth-colored resin into the lesion, which is then hardened with a curing light. The spot becomes less noticeable and appears more like normal enamel. For extensive defects, conventional bonding with composite resins or porcelain veneers can be used to cosmetically cover the tooth.
Getting ahead of the problem with effective oral hygiene and good dietary and lifestyle practices will keep WSLs at bay while you undergo orthodontic treatment. If they do develop, however, there are ways to minimize their effect and restore the look of your teeth.
If you would like more information on dental care during orthodontic treatment, please contact us or schedule an appointment for a consultation.
By Andrew Brown, DDS
November 10, 2020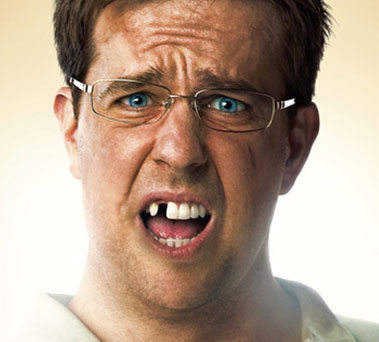 Ed Helms is best known for his role as the self-absorbed, Ivy League sales rep, Andy Bernard, on television's The Office. But to millions of fans he's also Stu, a member of a bachelor trip to Las Vegas in the 2009 movie The Hangover. In it, Stu and his friends wake up from a wild night on the Strip to find some things missing: the groom-to-be, their memories and, for Stu, a front tooth.
In reality, the missing tooth gag wasn't a Hollywood makeup or CGI (computer-generated imagery) trick—it was Ed Helm's actual missing tooth. According to Helms, the front tooth in question never developed and he had obtained a dental implant to replace it. He had the implant crown removed for the Hangover movie and then replaced after filming.
Helms' dental situation isn't that unusual. Although most of the 170 million-plus teeth missing from Americans' mouths are due to disease or trauma, a few happened because the teeth never formed. While most of these congenitally missing teeth are in the back of the mouth, a few, as in Helms' case, involve front teeth in the "smile zone," which can profoundly affect appearance.
Fortunately, people missing undeveloped teeth have several good options to restore their smiles and dental function. The kind of tooth missing could help determine which option to use. For example, a bridge supported by the teeth on either side of the gap might work well if the teeth on either side are in need of crowns.
If the missing tooth happens to be one or both of the lateral incisors (on either side of the centermost teeth), it could be possible to move the canine teeth (the pointy ones, also called eye teeth) to fill the gap. This technique, known as canine substitution, may also require further modification—either by softening the canines' pointed tips, crowning them or applying veneers—to help the repositioned teeth look more natural.
The optimal solution, though, is to replace a missing tooth with a dental implant which then has a lifelike crown attached to it, as Ed Helms did to get his winning smile. Implant-supported replacement teeth are closest to natural teeth in terms of both appearance and function. Implants, though, shouldn't be placed until the jaw has fully developed, usually in early adulthood. A younger person may need a temporary restoration like a bonded bridge or a partial denture until they're ready for an implant.
Whatever the method, there's an effective way to restore missing teeth. Seeing us for an initial exam is the first step toward your own winning smile.
If you would like more information about restoring missing teeth, please contact us or schedule a consultation. To learn more, read the Dear Doctor magazine article "Dental Implants."