Posts for tag: dental implants
By Andrew Brown, DDS
August 07, 2021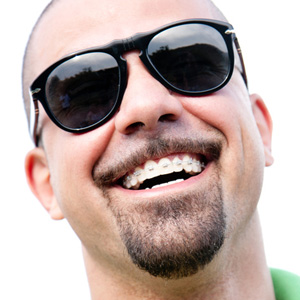 For whatever reason, you've put off replacing a missing tooth for awhile. Now you want to fill that empty gap in your smile with a dental implant restoration.
But if your tooth's been missing for a long time, there could be a problem with space. This is because the teeth on either side of the space may have gradually drifted into it, leaving no room for the implant. You could need orthodontic work first to return these teeth to their proper position.
We could use braces, metal orthodontic devices with wires threaded through brackets bonded to the teeth that are then anchored, usually to back teeth. The orthodontist uses elastics or springs as well as possibly incrementally tightening of the wire against the anchors. These techniques create pressure or tension on the teeth for the desired direction of movement. The teeth's natural mechanism for movement does the rest.
But while effective, braces can be quite noticeable, an embarrassing thought for many adults having to wear them over several months of treatment. But there may be an alternative: clear aligners, a succession of slightly different plastic trays usually worn in two-week intervals. Sequentially wearing each tray gradually moves the teeth to their desired positions.
Though not appropriate for all bite situations, clear aligners have a number of benefits when they can be used. They're nearly invisible to others and can be removed for hygiene tasks or rare special occasions. What's more, the orthodontist may attach a temporary prosthetic (false) tooth to the trays to camouflage the missing space during treatment.
There's one other issue you may have to deal with: if your tooth loss was related to periodontal (gum) disease, the gums and underlying bone may be in poor condition. In fact, substantial bone loss could rule out an implant altogether. But we may be able to remedy both gum and bone deficiencies through grafting or plastic surgery. It may be possible to regenerate enough bone to support the implant; and surgically repairing your gums will help ensure the implant appears natural.
If you have problems like these, don't give up on your restoration goal just yet. With some orthodontic and dental work ahead of time, we may still be able to make implants a reality for you.
If you would like more information on restoring your smile after losing teeth, please contact us or schedule an appointment for a consultation.
By Andrew Brown, DDS
November 10, 2020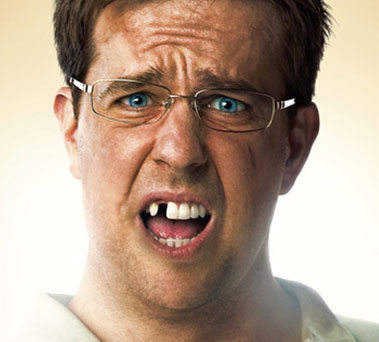 Ed Helms is best known for his role as the self-absorbed, Ivy League sales rep, Andy Bernard, on television's The Office. But to millions of fans he's also Stu, a member of a bachelor trip to Las Vegas in the 2009 movie The Hangover. In it, Stu and his friends wake up from a wild night on the Strip to find some things missing: the groom-to-be, their memories and, for Stu, a front tooth.
In reality, the missing tooth gag wasn't a Hollywood makeup or CGI (computer-generated imagery) trick—it was Ed Helm's actual missing tooth. According to Helms, the front tooth in question never developed and he had obtained a dental implant to replace it. He had the implant crown removed for the Hangover movie and then replaced after filming.
Helms' dental situation isn't that unusual. Although most of the 170 million-plus teeth missing from Americans' mouths are due to disease or trauma, a few happened because the teeth never formed. While most of these congenitally missing teeth are in the back of the mouth, a few, as in Helms' case, involve front teeth in the "smile zone," which can profoundly affect appearance.
Fortunately, people missing undeveloped teeth have several good options to restore their smiles and dental function. The kind of tooth missing could help determine which option to use. For example, a bridge supported by the teeth on either side of the gap might work well if the teeth on either side are in need of crowns.
If the missing tooth happens to be one or both of the lateral incisors (on either side of the centermost teeth), it could be possible to move the canine teeth (the pointy ones, also called eye teeth) to fill the gap. This technique, known as canine substitution, may also require further modification—either by softening the canines' pointed tips, crowning them or applying veneers—to help the repositioned teeth look more natural.
The optimal solution, though, is to replace a missing tooth with a dental implant which then has a lifelike crown attached to it, as Ed Helms did to get his winning smile. Implant-supported replacement teeth are closest to natural teeth in terms of both appearance and function. Implants, though, shouldn't be placed until the jaw has fully developed, usually in early adulthood. A younger person may need a temporary restoration like a bonded bridge or a partial denture until they're ready for an implant.
Whatever the method, there's an effective way to restore missing teeth. Seeing us for an initial exam is the first step toward your own winning smile.
If you would like more information about restoring missing teeth, please contact us or schedule a consultation. To learn more, read the Dear Doctor magazine article "Dental Implants."
By Andrew Brown, DDS
December 31, 2018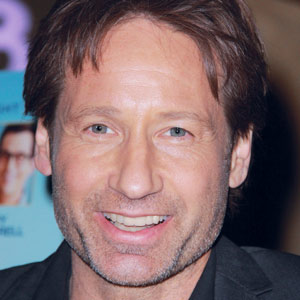 In real life he was a hard-charging basketball player through high school and college. In TV and the movies, he has gone head-to-head with serial killers, assorted bad guys… even mysterious paranormal forces. So would you believe that David Duchovny, who played Agent Fox Mulder in The X-Files and starred in countless other large and small-screen productions, lost his front teeth… in an elevator accident?
"I was running for the elevator at my high school when the door shut on my arm," he explained. "The next thing I knew, I was waking up in the hospital. I had fainted, fallen on my face, and knocked out my two front teeth." Looking at Duchovny now, you'd never know his front teeth weren't natural. But that's not "movie magic" — it's the art and science of modern dentistry.
How do dentists go about replacing lost teeth with natural-looking prosthetics? Today, there are two widely used tooth replacement procedures: dental implants and bridgework. When a natural tooth can't be saved — due to advanced decay, periodontal disease, or an accident like Duchovny's — these methods offer good looking, fully functional replacements. So what's the difference between the two? Essentially, it's a matter of how the replacement teeth are supported.
With state-of-the-art dental implants, support for the replacement tooth (or teeth) comes from small titanium inserts, which are implanted directly into the bone of the jaw. In time these become fused with the bone itself, providing a solid anchorage. What's more, they actually help prevent the bone loss that naturally occurs after tooth loss. The crowns — lifelike replacements for the visible part of the tooth — are securely attached to the implants via special connectors called abutments.
In traditional bridgework, the existing natural teeth on either side of a gap are used to support the replacement crowns that "bridge" the gap. Here's how it works: A one-piece unit is custom-fabricated, consisting of prosthetic crowns to replace missing teeth, plus caps to cover the adjacent (abutment) teeth on each side. Those abutment teeth must be shaped so the caps can fit over them; this is done by carefully removing some of the outer tooth material. Then the whole bridge unit is securely cemented in place.
While both systems have been used successfully for decades, bridgework is now being gradually supplanted by implants. That's because dental implants don't have any negative impact on nearby healthy teeth, while bridgework requires that abutment teeth be shaped for crowns, and puts additional stresses on them. Dental implants also generally last far longer than bridges — the rest of your life, if given proper care. However, they are initially more expensive (though they may prove more economical in the long run), and not everyone is a candidate for the minor surgery they require.
Which method is best for you? Don't try using paranormal powers to find out: Come in and talk to us. If you would like more information about tooth replacement, please contact us or schedule an appointment for a consultation. You can learn more in the Dear Doctor magazine articles "Crowns & Bridgework," and "Dental Implants."